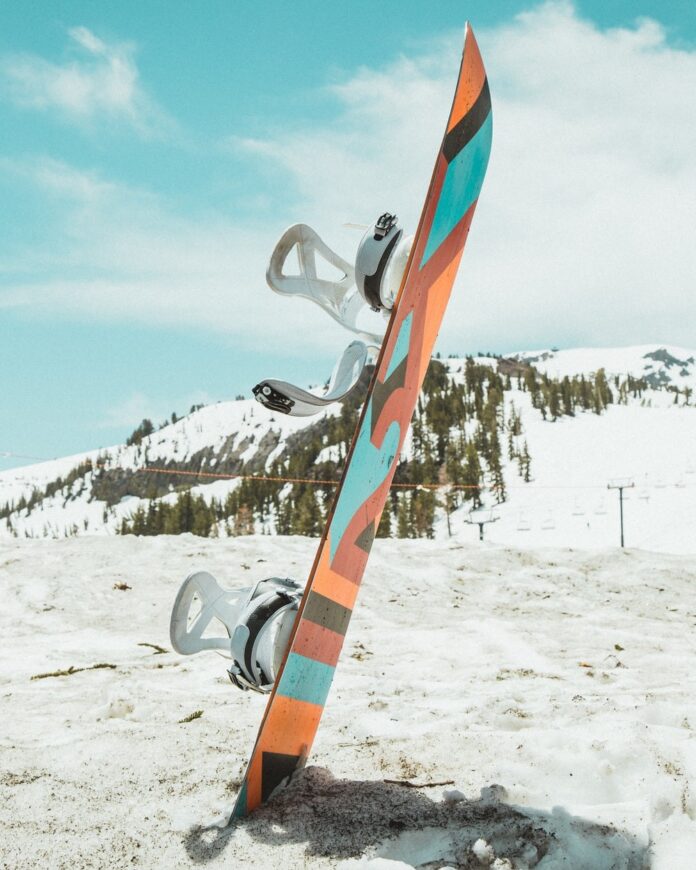 A snowboard is a board to which both feet are secured. It is wider than skis and glides on snow seamlessly. It's width measures between 6 and 12 inches. Snowboards are used in snowboarding, an activity in which people descend a snow-covered mountain.
Snowboards were only invented as recently as the 1960s. Before that, there is no known formal invention of the snowboard. Snowboarding is, therefore, a relatively new sport. It evolved from the sports of skateboarding, sledding, surfing, and skiing.  
This History of Snowboards
In 1965, Sherman Poppen from Michigan made a toy for his daughters out of two skis attached with a rope to one end. It was called the "surfer" by his wife, and soon was being licensed to Brunswick Corporation. People sold a million surfers over the next decade. In 1968, Poppen organized a surfing competition that was attended by Tom Sims. Tom Sims created a snowboard in the 1960s by attaching aluminum sheeting to a piece of wood. Together, Poppen and Sims pioneered the snowboarding industry in the United States.
In 1977, Jake Burton Carpenter from Vermont invented a snowboard in a surfing competition with bindings attached to aboard. The snowboards were created with wooden planks and had ski straps. Burton began his company called Burton Snowboards that same year. Burton Snowboards eventually became the biggest snowboard company in the business. 
Snowboarding became popular in the 1980s. Winterstick founder Dimitrije Milovich, Sims Snowboards founder Tom Sims, David Kemper of the Kemper Snowboards, the Burton Snowboards, and Mike Olson, founder of Gnu Snowboards invented new designs of snowboards. Mechanisms developed into what we know today as snowboards and their related equipment.  
The "King of the Mountain" Snowboard competition was held in Colorado in 1981. Many of the inventors of the snowboard were present. In 1982, The USA National Snowboard race was held in Vermont. It was won by Burton's team's snowboarder named Doug Bouton. In 1983, California hosted the first World Championship halfpipe competition. 
Sims Snowboards founder Tom Sims organized the event with Mike Chantry. The structure is often made to defy gravity. Snowboarding, skiing, skateboarding, freestyle BMX, skating, and scooter riding are some sports where a halfpipe is used.  
In 1985, the first World Cup was held in Austria. Snowboarding was recognized as an official international competitive sport for the first time. In 1990, the International Snowboard Federations (ISF) was founded. The ISF, along with the United States of America Snowboard Association (USASA), provides standards for the sport. Several snowboarding events, such as the Winter X Games, Air&Style, the Olympic Games all have snowboarding in their events. 
Read Also: How to Get the Safest Microblading Tattoos in Melbourne
Snowboarding finally became an official Olympic event during the 1998 Winter Olympic Games in Japan. The first woman snowboarder to win a gold medal was Karine Ruby of France. Ross Rebagliati of Canada won the first Olympic gold medal for men's snowboarding.
While it took snowboarding several decades to become recognized by the Olympic games, compared to other sports, it achieved a relatively quick introduction to mass audiences. Today, snowboarding is not as popular as in the early 2000s but is nevertheless widely played around the world.