Do you know what is Dubai famous for? It is because of popular tourist attractions, camping sites, deserts and tall buildings. People usually visit Dubai to unwind a bit and make some memorable memories with their loved ones. Well, vacations in Dubai are incomplete without camping. And, when it comes to camping, the one place that immediately comes to mind is Ras Al Khaimah.
In Ras Al Khaimah, there is the tallest mountain in UAE called Jebel Jais which is a perfect sight for camping. If you are also aspiring to relish an overnight camp at Jebel Jais but first want to do research on it, this blog is only for you.
Jebel Jais Mountain: An Introduction
Jebel Jais is the highest mountain and offers a mountain experience like no other. The mountain peak resides in the northern part of Ras Al Khaimah It is a peak that is a significant part of the magnificent Hajar Mountains which were formed around 70 million years ago. The temperature here is cooler than in other popular attractions of the country. Even during summers, the night temperature is somewhere between 28 °C – 29 °C. Jebel Jais is 1830 meters above sea level and is notable for wadis, trekking and cycling.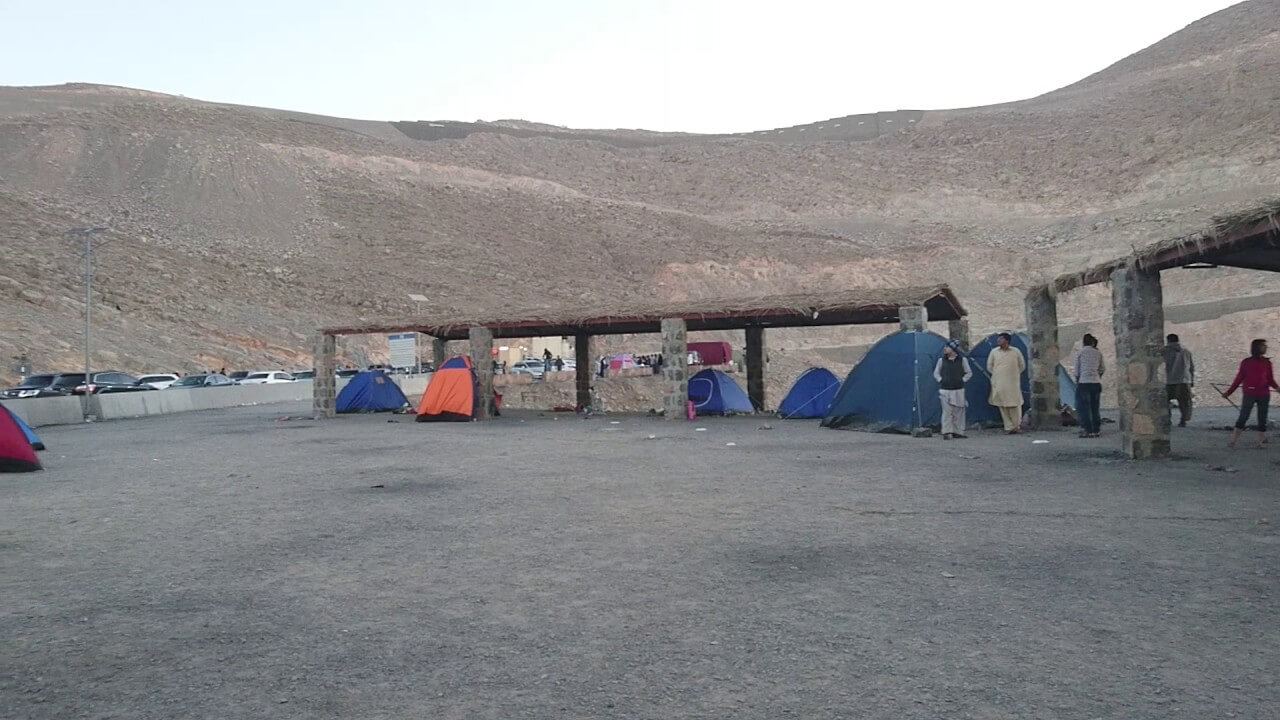 Camping on Jebel Jais
Jebel Jais is a favorite camping spot for a plethora of tourists. They set their tent, spread mats, and enjoy barbecues and gossip in the light of the moon. The temperature there is ideal, not too hot and not too cold which is perfect to spend vacations in your favorite outfit. However, before you reach the site for camping, make sure to make a checklist of all the crucial things that are required there. Keep your clothes, utensils, food items and everything essential with you. Apart from that, you have to take care of your safety as well. If possible keep band-aids, medicines and other safety measures to ensure a safe camping trip.
The best way to enjoy camping at Jebel is to spend a whole day and whole night there. This way, you can enjoy the sun-kissed mountain, star gazing, late-night chit-chat with your loved ones, and your favorite snacks made on the fire-pits or barbecues. Moreover, you can also tell a horror story to make this occasion a long-lasting memory. In addition, don't forget to capture memories in the form of photographs. It will help you refresh those memories and get back to those days by just having a look at the pictures.
Facilities Available at the Camping Sites
As mentioned above, camping sites that are established by the government have different facilities to give a better experience to tourists. What are these facilities? Let's check this out:
Free parking space is available.
Proper shade space is available.
Separate toilets for male and female visitors.
Shops and cafes are available.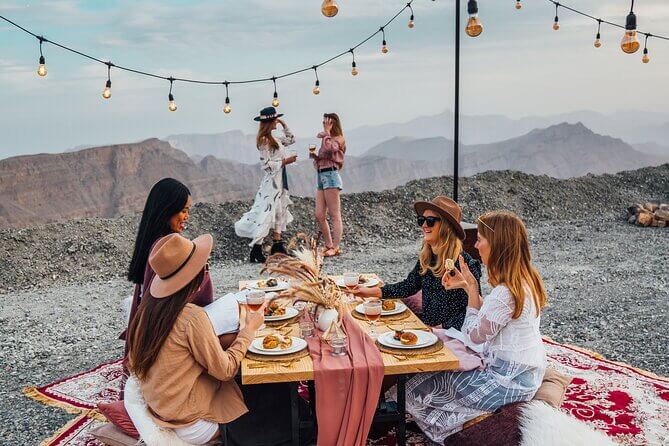 Different Methods to Reach Jebel Jais from Dubai
There are many ways you can opt to reach the highest mountain Jebel Jais from Dubai. The best part is roads in UAE are in good condition, so you can reach your destination smoothly without any hassle.
Here are some travel options you can choose to reach Jebel Jais:
1) Private Car or a car on rent
Well, the peak range is nearly 60-65 km away from Ras Al Khaimah city center and this much of distance can be easily covered by a car. If you have a private car, it is great, if not then you can rent a car.
2) Taxi
A taxi is a convenient option to reach Jebel Jais safely and efficiently. Taxis are fully air conditioned and comfortable to make your journey from Dubai to Jebel cozy. However, make sure that the driver has a valid license or you may get into serious trouble.
3) Metro
If you think that sitting for so long in a taxi would be boring, you can prefer the metro. However, the metro won't take you directly to Jebel as you have to take a bus or taxi from the last station to reach there.
4) Public Bus Transport
Public buses are the next option to move to the final destination. This option is not only affordable but comfortable and convenient as well.
Things You Must Take Jebel Jais Camping
There are some essentials you must carry with you to ensure a smooth and safe camping experience at Jebel Jais. Let's see that checklist first:
Tents as per the number of people going out for a camp.
Clothes
Wipes for cleaning
Power bank
Food items
Utensils including plates, spoons, knives, cups and glasses to eat and drink.
Water
Flashlight or torch
First aid kit
A Few Facts You Must Know Before Visiting Jebel Jais
If you have proper knowledge of the place you are going to visit, the experience will be hassle-free and amazing. So, let's discover some facts about Jebel Jais:
You don't have to pay anything to visit Jebel Jais because entry is free.
As Jebel Jais is a notable camping spot, there is huge hustle and bustle during vacations. So, if you don't like crowded areas, you can visit the place either before vacations or after vacations.
It will take about 1.5 hours to reach Jebel Jais from Dubai.
There is no lighting system on the campsite, so carry your own torch.
There is no availability of gas stations near the campsite.
The spot may be slippery, so carry sports shoes.
Carry DSLR cameras to click HD photographs.
Other Jebel Jais Camp Sites
There are numerous camping sites in Jebel Jais, the rest depends upon your preferences and camping experiences. For instance, if you are a novice and going to experience camping for the first time, you can visit camping spots that are authorized by the government. These sites have all the facilities including toilets, parking and shades. However, if you have experienced camping ample times, then you can prefer moving to the foot of the mountain to have an adventurous camping experience.
Final Words
So, now you have got all the information about this amazing camping site. Make sure to consider each and every point mentioned above to avoid any chaos and make great memories there.