As someone who loves to experiment with the latest hair trends, I've been enthralled watching knotless braids explode in popularity over recent years. This gorgeous braiding technique has taken the haircare world by storm, and for good reason. Knotless braids have captivated women across the world with their sleek, continuous look and low-maintenance nature. As a braid enthusiast myself, I completely understand the appeal. In this article, I'll break down all the reasons knotless braids have become such a massive sensation.
From their stylistic versatility to protective benefits, knotless braids are shaking up hair fashion. Read on to learn what makes them a frontrunner among protective styles!
They Look Incredibly Natural
One of the biggest reasons knotless braids are surging in popularity is their natural, realistic appearance. Unlike classic braids that have visible knots and defined parted rows, knotless braids are designed to seamlessly blend with your natural hair.
The technique involves slowly feeding in extensions to create smooth, continuous braids that appear to flow directly out of the scalp. Rather than looking like an added-in hairstyle, properly installed knotless braids give the illusion that the hair is growing naturally out of your head in one long, braided strand.
This natural effect simply can't be achieved with other braiding methods. Women are craving that flawless finish that makes knotless braids look like an extension of their own hair. It's easy to see why these braids are being embraced as a go-to style.
Low Maintenance is Key
If there's one thing we all desire from our hairstyles, it's low maintenance. The hectic pace of life leaves little time for high-touch hair routines. That's exactly why knotless braids are exploding in popularity – once installed, they require very minimal upkeep!
Knotless braids allow you to wake up, go about your busy day, and then sleep at night without hardly having to tend to your hair. There's no need to re-twist sections or smooth flyaway frizzes like other braided styles require. As long as your knotless braids are properly cared for, they retain their sleek form for weeks at a time.
Who doesn't love a stylish, put-together hairstyle that doesn't require daily time-consuming maintenance? Knotless braids offer a gorgeous low-maintenance option. It's no wonder everyone is clamoring to try this effortless braided style.
Protection for Natural Hair
Healthy hair is happy hair. That's why protective styles that safeguard your natural hair are essential. This is another area where knotless braids deliver big time. When properly installed, knotless braids help protect your hair in several key ways:
Minimize Manipulation: Your own hair stays tucked away safely inside the braids, avoiding daily brushing/detangling.
Reduce Breakage: There are no vulnerable loose ends exposed and susceptible to breaking off.
Maintain Moisture: Braids seal in the hair cuticle to prevent moisture loss.
Eliminate Frizz: The smooth braids stop strands from rubbing together and frizzing out.
No Tight Tension: Knotless technique should not require pulling hair tightly to scalp.
Add Length: Extensions protect your ends from environmental damage.
The combination of these protective benefits make knotless braids ideal for retaining the health of your natural hair as it grows out. No wonder knotless braids are being embraced as the perfect protective style!
Knotless Braids Suit Diverse Hair Types
While initially worn predominantly by those with highly textured hair, knotless braids are now adored by women across all hair types. Their versatility and customizable nature makes them suitable for everything from kinky coily hair to loose waves.
Read Also: Benefits Of The Right Hair Style For Important Occasions
By tailoring factors like braid size, extension texture and styling method, knotless braids can be adapted to complement and enhance all textures and densities. Some tips:
Coily Textures: Opt for small, medium box braids with textured extensions
Curly Hair: Create larger knotless braids or goddess braids using deep wave hair
Straight Strands: Twist hair when braiding rather than traditional underhand technique
Thin Hair: Choose lightweight, thin braiding hair to add fullness but not bulk
b: Incorporate chunky, jumbo braids throughout for dramatic effect
With the right customization, knotless braids can be shaped to accentuate the unique attributes of any natural hair type. No wonder all different hair textures are rocking this trend!
Endless Styling Possibilities
Beyond looking fabulous on their own, one of the most exciting aspects of knotless braids is the limitless styling possibilities. There are so many creative ways to shape and embellish knotless braids to create gorgeous new looks.
You can experiment with fun braid shapes like zig-zags, curves, and diagonal parts. Work in braided topknots or updos for dimension. Add jewelry like cuffs and beads for an extra pop of personality.
Color knotless braids with bold ombre dip-dyes or keep them chic in solid black. Twist in pops of colored hair or extensions for a unique accent. The options are endless!
Knotless braids' adaptability makes them an ideal canvas for self-expression. Your stylist can shape them into a look that showcases your personal flair. This versatility adds to their popularity.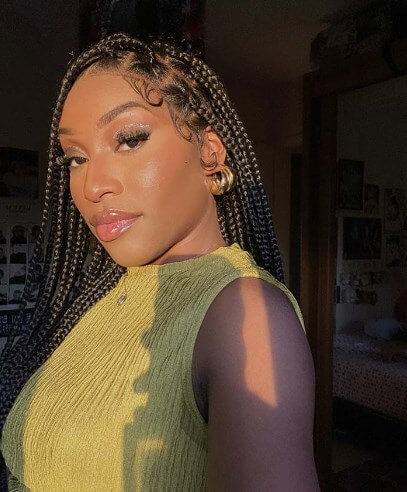 A Break from Relaxers and Heat
Many women choosing knotless braids are looking to give their natural hair a break from chemical relaxers or excessive heat styling. The low manipulation and protective nature of knotless braids allows damaged hair to recover and grow out over time.
By safely tucking hair away into knotless braids, the natural texture has time to strengthen without frequent relaxer touch-ups or hot tools. When braids are eventually removed, hair is often healthier from retaining its moisture and protein during braid breaks.
For transitioning from chemically-straightened to natural hair, knotless braids provide the perfect protective bridge to avoid having two dramatically different textures simultaneously. As your new natural hair grows in, knotless braids blend it seamlessly with relaxed ends. This makes the journey to healthier hair smooth and manageable.
Celebrating Natural Black Hair Beauty
The natural hair movement among black women has amplifed knotless braids' popularity. As a rejection of damaging styling practices like relaxers, black women are embracing their beautiful natural textures. Knotless braiding provides a way to showcase glorious natural coils, curls and kinks without exposing them to damage.
By interweaving extensions into their natural hair, black women can obtain length and styling versatility while protecting their stunning natural texture underneath. Knotless braids allow black women to tap into their inner natural goddess!
While knotless braids are having a major style moment, I'd be remiss not to mention the whimsical beauty of butterfly locs. This breezy, boho braided style intertwines faux locs into gorgeous fluttering patterns that cascade down the back. The textured, crimped loops create a playful, romantic look perfect for festivals or a beach vacation. Butterfly locs allow you to tap into your inner earth goddess! They work beautifully on natural hair or faux locs. For those seeking a braided style with ethereal flair, butterfly locs are a fantastic alternative to classic knotless braids. You can even incorporate some butterfly locs into your knotless style for visual interest! However you wear them, butterfly locs will bring out your inner free spirit.
As a black woman myself who loves changing up my style, knotless braids empower me to celebrate the natural beauty of black hair without causing breakage. This new technique truly elevates protective styling.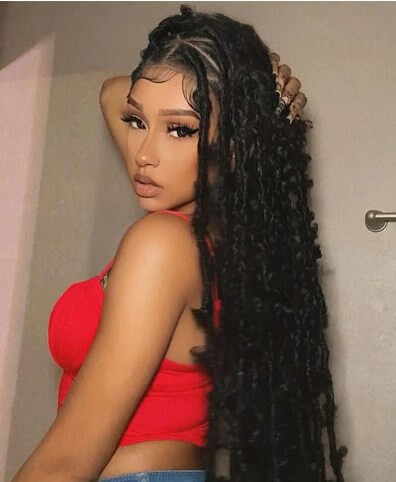 Availability of Quality Stylists
The growing availability of skilled knotless braiders also contributes to the style's popularity surge. As demand increases, more stylists are mastering the meticulous knotless technique and opening specialized braid salons. Social platforms connect clients to talented braiders.
If you're seeking an experienced, attentive stylist for your knotless install, ask around for referrals and scour social media. Reputable knotless braiders display their work across platforms like Instagram. Many even offer online booking.
With access to so many talented artists, it's easier than ever to achieve flawlessly styled knotless braids. Their widespread availability removes barriers.
Take Advantage of Convenience
While visiting a stylist for fresh knotless braids is ideal, some may not have time for lengthy in-salon sessions. That's where the magic of knotless braided wigs comes in! Pre-styled with impeccable knotless braids, these wigs allow you to enjoy this gorgeous look in minutes.
Simply slip on a knotless wig to achieve a flawless finish without spending hours in the braider's chair. Human hair and heat-friendly synthetic options looks incredibly realistic. For those craving instant styling gratification, knotless braid wigs are total game changers.
You can even invest in various wigs in different lengths, sizes and colors to switch your look up. Thanks to wig convenience, everyone can rock knotless braids!