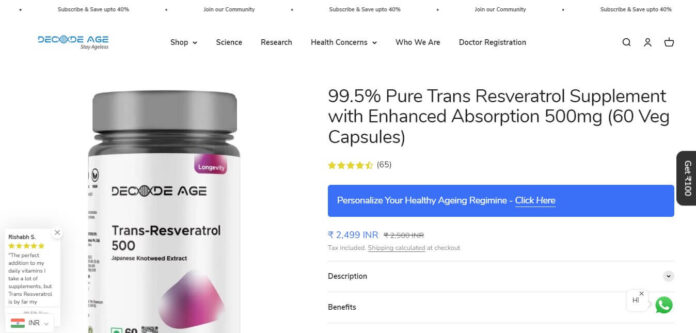 Resveratrol, a naturally occurring compound in certain plants, has gained significant attention for its potential health benefits. This comprehensive guide aims to explore how a resveratrol supplement can positively impact our well-being. From cardiovascular health to anti-aging properties, this article will show the scientific evidence supporting the use of this supplement and shed light on its potential mechanisms of action.
Cardiovascular Health
One of the most well-known benefits of resveratrol is its positive impact on cardiovascular health. Studies have shown that it can help reduce the risk of heart disease by boosting blood flow and avoiding the formation of blood clots. Moreover, this compound has been shown to enhance the function of the endothelium, thereby promoting healthy blood pressure levels. By reducing inflammation and oxidative stress, it contributes to overall cardiovascular well-being.
Anti-Aging Properties
Resveratrol has been widely recognized for its potential anti-aging properties. Studies suggest that this compound activates sirtuins, a protein group that regulates cellular health and longevity. Stimulating these proteins may promote cellular repair and protect against age-related diseases. Furthermore, this natural compound exhibits potent antioxidant effects, which can help combat free radicals and minimize oxidative damage, a common contributor to the aging process.
Brain Health and Cognitive Function
Emerging research indicates that this supplement supports brain health and cognitive function. The compound has been found to enhance learning and memory in animal studies, and initial human trials have shown promising results as well. Resveratrol's ability to reduce inflammation and oxidative stress in the brain, coupled with its positive impact on blood flow, may contribute to its neuroprotective effects. While more research is needed in this area, the potential benefits for brain health are certainly intriguing.
Cancer Prevention
The potential anti-cancer properties of resveratrol have attracted significant attention from researchers. Numerous laboratory studies have demonstrated that this compound can control the cancer cells, prevent them from growing and cause programmed cell death. Its anti-inflammatory, and antioxidant effects may help protect against DNA damage and the development of tumors. However, it is important to note that more clinical trials are required to determine this supplement's optimal dosage and efficacy as an anti-cancer agent.
Diabetes Management
In recent years, resveratrol has shown promise in the management of diabetes. Studies have revealed that this compound can improve insulin sensitivity and regulate blood sugar levels. It may also offer protection against diabetes-related complications, such as diabetic neuropathy and kidney damage. Activating certain proteins involved in glucose metabolism presents a potential adjunct therapy for individuals with diabetes.
Preliminary studies indicate that this compound may have anti-inflammatory properties, which can benefit individuals with inflammatory conditions such as arthritis. Furthermore, the supplement's antioxidant effects may help protect against age-related macular degeneration, a cause of vision loss in older adults. While more research is needed to understand the extent of these potential benefits fully, they provide intriguing avenues for further exploration.
Read Also: A Guide to IVF Clinics in Dubai: Paving the Way to Parenthood
From its positive effects on cardiovascular health to its potential anti-aging and neuroprotective properties, Resveratrol has emerged as a fascinating area of research. While the scientific community continues to explore its full potential, the resveratrol supplement can be considered as part of a holistic approach to overall well-being. Many people strive to keep their health in the best condition by purchasing the best resveratrol supplement in india. However, consulting with a healthcare professional before incorporating any new supplement into your routine is essential. Sticking to a balanced diet, regular exercise and a healthy lifestyle remain the foundation for optimal health.