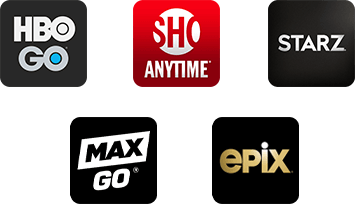 Everyone loves movies. They are like short, powerful bursts of finite stories that amuse you in a particular time-frame. Do you know what cultural dilettantes prefer even more than that? TV series. Elongated journeys cut into intervals that incite an emotional rollercoaster within the viewers as its characters develop and story curves from one episode to the next. Yes, it is these series and shows that elevate the television industry in the cinematic arena. Families gather in their living rooms to have a good laugh over an episode of It's Always Sunny In Philadelphia after dinner. Groups host late-night sittings to watch the finales of TV shows like Game of Thrones. Stuck-at-home-due-to-coronavirus folk gets cozy with Feel Good. That is how cable TV has transformed the lives of American viewers.
However, most of the TV providers understand the possibility of viewer restlessness. There is a chance people might get bored with the constant re-runs of the usual shows and not to mention, the annoying commercials. That is why they offer premium channels to satisfy their customers from all angles. These premium channels are a serious upgrade to the usual TV content, and they are at the center of this post. Learn more about them below.
What Makes Premium Channels Different?
Two words: Commercial-free programming.
As smooth as silk, the broadcasted shows on premium channels run without being interrupted by ads. Unlike the regular cable TV channels like ESPN, ABC, and Comedy Central, premium channels avoid endless commercials, and they certainly do not break the flow of your engagement.
Moreover, premium channels also enjoy access to the 'first run' versions of movies and list the latest blockbusters that may leave you waiting on a regular screen. They have the budget to create new shows for the viewers, as well. However, to access these channels, you may have to pay extra to your cable providers, unless you have a high-end package with premium subscriptions pre-included, like TV Silver & TV Gold plans from Spectrum TV.
Because they are so special and high in demand, premium channels are also available to watch on streaming platforms, like Sling TV, Amazon Prime Video, AT&T TV NOW, and Hulu. If you don't have a cable subscription, you can watch premium content here.
What Kind of Premium Channels can you get on Cable TV?
It's always a wise move to read up on what you're about to sign up for, before going headfirst into it and then regretting later. Your cable provider may give you a catalog of premium channels upon checkout. Consider the following review and then take your pick.
Best Premium Channels on Cable TV

HBO®
HBO® is a behemoth of the television industry and the first of the cable networks to popularize the 'original series' format. A majority of the cable providers offer HBO® programming either in their high-tier packages or in the form of a separate add-on or both. If you sign up for an HBO® subscription, you may get all its ancillary channels, like HBO Family, HBO Zone, HBO Latino, and HBO Comedy, etc. plus free access to the mobile streaming app of HBO Go.
Read Also: Intro To SIBOR in Interest Charge Computation
With HBO Go, you can download the episodes for offline viewing, stream your favorite shows on multiple devices in HD quality, and even order programming On Demand. HBO® is popular for its gritty drama series such as His Dark Materials and Game of Thrones, while also for its runs of Sesame Street for the kids. The price for this premium channel with a cable plan is $17.99 per month, and with a streaming service, it is $14.99 per month, on average. You can also bundle it with the movie-giant CINEMAX®, started by HBO® initially, to taste the best of both worlds.
STARZ®
STARZ Entertainment is ideal for people who like to balance their content consumption and watch movies alongside TV series. This premium channel broadcasts the movie library of its parent company, Lionsgate, and has twelve channels dedicated to this kind of programming. You can watch the latest fresh-off-the-block titles as well as respected classics of any era. Like its competitors, STARZ® experiments with the original series format too, and has popular names like AmericanGods, Outlander, and Ash vs. Evil Dead under its belt. The monthly rate of a STARZ® cable subscription is around $13.99, whereas its streaming add-on costs $8.99 per month at most.
SHOWTIME®
This premium channel has been around since the 1970s much like HBO® and is available through both cable and streaming subscriptions. SHOWTIME® is best known for its original series like Homeland, Shameless, Dexter, and Californication. In addition to these popular titles, you can watch sports programming, video interviews of NBA champions, and behind-the-scenes commentaries like All the Smoke on this channel. The price for SHOWTIME® with a cable package is $13.99 per month and with a streaming service, it is $11 per month, which is still expensive but worth your while. Another interesting fact here is that you can get The Movie Channel and its spectacularly PG-13 content FREE with a SHOWTIME® subscription.
EPIX®
If sports are your thing, then EPIX® is perfect for you. It may be the least popular premium channel, but it surely holds a unique edge of its own. Besides running movies like Raging Bull and original series like The Godfather of Harlem, EPIX® gives you access to a wonderful row of sports programming. You can watch NHL games, screening of boxing matches, and even dedicated shows like NFL: The Grind on EPIX®. All you have to do is pay $9.99 per month to a cable provider or $5.99 per month to a streaming service to get this premium channel. The prices are subject to change, of course.
Wrapping Up
Now that you have scanned our top selections of premium channels and run the comparison, you can easily evaluate which one suits your needs and budgets the best. You can even give them a free trial to test the waters before sealing the deal.