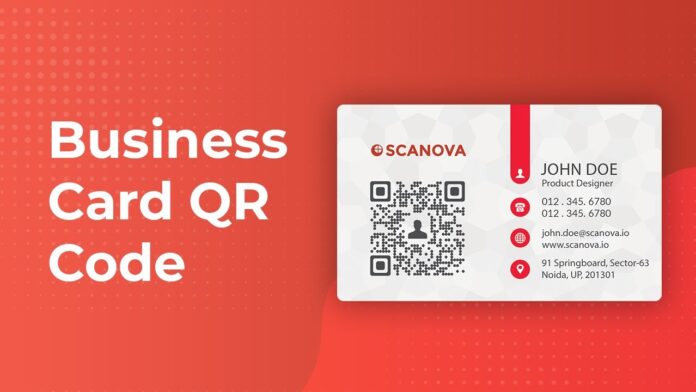 QR code business cards are a modern take on traditional business cards. They provide a new level of interactivity by allowing people to scan the code. When the code is scanned, customers can instantly access more information about your business, products, and services online. Here are 7 FAQs about QR code cards:
1. What Is a QR Code Business Card, and How Does It Work?
A QR code business card is a card with a QR code. When scanned with a mobile device, the code takes users to a landing page containing information like phone number, email, website, and social media handles. This makes it easy for people to contact your business quickly or visit your website. Instead of asking them to type your website in, the code can link them directly there. This makes things quick and limits the risk of users going to the wrong webpage.
2. What Are the Benefits of Using a QR Code Card?
With a QR code linking to your website or social media page, recipients can easily access detailed information about your business. QR code cards can be cost-effective as they eliminate the need for printing detailed marketing materials. You don't need to worry about printing all of your information on a business card when you have a QR code linking to your website. They save space, simplify your business card design, and they allow you to update the landing page rather than print new business cards when information changes.
3. What Type of Information Can Be Included?
QR codes can link customers directly to any chosen webpage. This means that you can really choose any information you want to be included. It just depends on the website you choose to link to. One common use is to link users to a contact page with location, phone numbers, and email information. You could also link users directly to a social media page or a page with more information about your products and services.
4. How Do I Create a Professional QR Code Card?
Start by designing a business card layout that highlights your brand and information about your business. Keep the design simple and easy to read with plenty of room for a QR code to fit in. Generate a unique QR code online that links directly to the website or social media page you want to promote. After you add the QR code to the design, you can search for a reliable printer who can take your design and make it a reality.
5. Is It Possible to Customize the QR Code Design?
QR codes generally appear as black blocks on a white background. Depending on the service you use to generate your code, you may have alternative options. Some services provide alternative color options or design choices. You may also consider including a border around the code to highlight it. These customization options may allow you to maintain a consistent design while still making use of QR technology.
6. Can I Track Who Scans My Qr Code?
Some QR code generators can produce codes with the ability to track the level of usage it receives. It may be able to provide information such as the general location, time, and type of device used to scan the code. This data may provide insights into which marketing initiatives have been successful. It may also give you a sense of your target audience's behavior and preferences. By analyzing the data, you can improve your marketing strategy and make informed decisions about your business.
7. How Often Should I Update My Card?
Depending on changes within your business and industry trends, you can update your business card every six months to a year. One major advantage of QR cards is that they don't need to be updated as frequently. If you are using QR codes to link customers to contact information, you may be able to change the website information rather than print new cards. This can allow your business cards to function for longer than standard cards. You may still want to update cards when any information printed on the card changes.
Get Started Today
QR code business cards are an effective and efficient way to stay connected with colleagues and clients. You can customize cards, track scans, and update information when necessary. Once you have a design, you can find a business card printer who can produce high-quality business cards with your code. QR codes can make sharing your information with potential clients easy and efficient.