Sikkim is one of the beautiful states of north-east India which never cease to charm the visitors. The natural beauty of Himalayan ranges, pleasant weather and smiling faces, you can find it all in Sikkim.
Sikkim will not only appeal you with its panoramic views but, it will also amaze you with a cool ambience and amazing public places. Yes, we are talking about cafes, restaurants and all those youth hubs where tourists love to mingle with like-minded people. Sikkim tourism is also increasing every year due to such places.

As a traveller, sometimes all we need is a cool place with a welcoming atmosphere where we can chill out along with some gourmet snacks and food. Well, you will find plenty of such places in Sikkim. You must have heard about a few famous cafes of this state but, let us tell you that they form just one page of an entire book!
You will encounter with umpteen cafes, street food shops and eating joints on every nook while travelling in Sikkim. Don't get confused about which one to visit. We are sharing a list of lesser-known cafes in Sikkim that totally worth paying a visit!
Are you one of those avid readers who never leave a book even in their sleep? If yes, then this café is like heaven for you! A Sikkimese girl runs this café who loves literature and food more than anything else. She came up with this beautiful and decent book theme café namely Bibliothequé café to express her passion. The word Bibliothequé is basically an ancient Greek word used for the library.
Order some yummy Sikkimese snacks and grab your favourite book to make your evening memorable. Just drift in the fictional world of Jane Austen and Charles Dickens and forget all your worries in Bibliothequé Book Café!
Crumbs and Whips Café Bakery, Namchi
Located in the main market of the famous city Namchi, Crumbs and Whips café bakery is an amazing place with a super awesome ambience. The dim lights, confectionary display, and light music provide this café with an international ambience.
If sweets and desserts are your weaknesses then, this bakery café will be your favourite! Choose from delicious pasta, burgers, bakery items, and barista style coffee to satiate your hunger. They have plenty of options for non-vegetarians as well. Be it breakfast lunch or dinner this café serves all. Chill with your buddies or enjoy a stylish date with your partner here!
Café Live and Loud, Gangtok
Are you a music addict? Does your life revolve around musical beats? If yes, then admit it loudly in Café Live and Loud. It is a live music club and café which serves food till 11:30 in the night. This café is a late night hangout place of travellers and locals who love music.
This 10-year-old café and pub is perfect for partying, DJ nights and enjoying live performances of famous artists. You can choose from a large menu of continental, Chinese, Indian and local food. Set your party on fire with some Hookah and drinks. Sit on a special family deck if visiting with your family or you don't prefer loud music.
Jungle Café, Gangtok
For all the nature lovers, the Jungle Café of Gangtok is a must visit place. One can see the impact of the natural beauty of Sikkim in this beautiful café. Set amidst the lush green surroundings, this cafe serves the local Sikkimese cuisine in a traditional way.
Local chicken and momos of this café are enough to ignite your hunger even more! Eat as much as you can as not every café offers you scrumptious local food in full Sikkimese style. Go to the nearby spa for a refreshing experience after having a wholesome meal. Such places are making Sikkim tourism even more popular.
Coffee Break, Rangpo
If you are tired while travelling and looking for a cool place to rest on your way to Gangtok from Siliguri then, coffee break is your destination. Just like its name, people come here to take a coffee break in between their hectic journey. This Italian Mexican café serves finger licking food to make you forget about the hustle.
This pure vegan café is famous for varieties of food items like cakes, pastries, coffee, garlic bread and pasta. The chocolaty menu with chocolate sizzlers and shakes makes it the hub of sweet lovers. Coffee break is the best place to hang out with friends in a comfortable ambience. The friendly staff will make your visit more delightful!
Infinity Futsal Arena, Gangtok
Infinity Futsal Arena is a café and restaurant meant for all the sports lovers. Especially football fans shouldn't miss the opportunity to visit this café during their Sikkim trip. The amazing views of lofty hills make this rooftop eating point enchanting.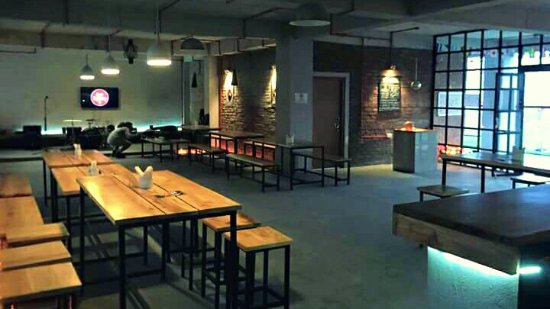 The best part is that you can watch the latest football matches here. But, that's not what it makes so special. You can even play football with others in the rooftop football playground of this café! Yes, now you won't miss this one; right. Participate in futsal football tournaments and eat the tasty food after the exciting match only at Infinity Futsal Arena café in Gangtok!
Loafing Around, Gangtok
Loafing around café is the hub of freshly baked cakes, muffins and pastries. Your search would end on Loafing Around if you are looking for some cosy and well-decorated café. The magical aroma of blueberry cheesecakes and pastries will cast a spell on you and you will eventually break your diet!
Sip on your cappuccino and relish on your favourite pizzas to enjoy your time here. The place is quite small still; your experience will be awesome here!
Hence, Sikkim is full of such cafés where you can spend some leisure time and taste the delicacies of the state. You can also meet new travellers or maybe friendly locals while enjoying in cafés of Sikkim. They are perfect for solo travellers, families and even couples!