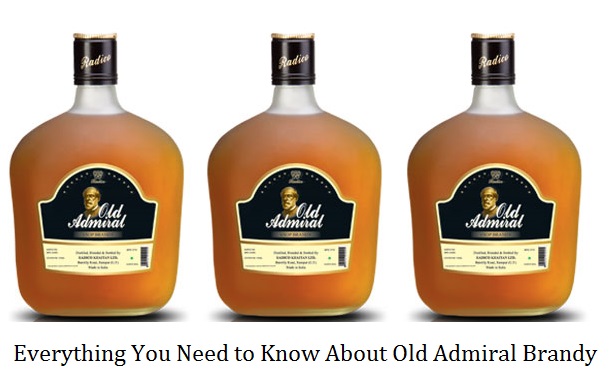 Brandy is a classic form of liquor that is widely used by individuals in the world. It is typically used after dinner as it aids digestion of food. Though, there are many brands available in brandy. But, the most popular brand is Old Admiral Brandy. It is one among the best selling brandy brands and is truly admired. It has ranked as the 5th top selling brandy by Drinks International.
Origin of Old Admiral Brandy
Let us tell you about the origin of Old Admiral Brandy in India. It is a brand of Radico Khaitan formerly known as Rampur distillery. The company is located at Delhi. The south region of the country is largest market for this brandy brand. Besides, it has also gained massive recognition in the Middle East and West Africa. Radico Khaitan, the makers of this brandy are pioneer in the spirit industry. Moreover, they have other popular brands such as Magic Moments Vodka, Contessa Rum, 8PM whisky and many more.
The Old Admiral Brandy is specially made for the men that want to celebrate the marvelous taste and appreciate aroma. It has classic taste and rich flavor that will certainly lead to the fulfillment.
Ingredients of Old Admiral Brandy
Well, every brandy lover would admire to know about the ingredients used to form this brandy. For overview information, it contains the alcohol volume approximately 40 percent. It is made from the aged grapes and distilled wine. The brandy has unique flavor that it has got from its fructose content. It is aged brandy that is preserved in wooden cases.
Price of Old Admiral Brandy
The price of this brandy is INR 350 for 750 ML. It comes in a handy bottle that is oval-shaped. The availability of old admiral brandy is vast in India. You can get it from local wine shop or can order online as well. You can click this link to buy Old Admiral Brandy now.
Reviews of Old Admiral Brandy
Fine Taste: The brandy has fine taste and aroma. It is prepared with aged process that has made it the blend of taste and quality.
Good Alcohol Volume: Old Admiral Brandy has good alcohol content. I personally recommend it for the wine lovers. It contains 40 percent alcohol.
Good for Respiratory Health: I am drinking this brandy since past 10 years. It is very good to treat sore throat and cold. Liked it very much.
High-Fructose: This brandy has high-level of fructose that made it uniquely taste. Unlike, other brandies it is not much bitter.
FAQ
Q1) Which is the leading brandy brand in India?
Ans) Old Admiral is the leading brand in India that is manufactured by Radico Khaitan.
Q2) What is the best time to drink brandy?
Ans) You must drink it at night after dinner. It is known to aid digestion and induce better sleep.
Q3) Is drinking brandy healthy?
Ans) Yes, consumption of brandy is good for health due its antioxidants properties. It can also boost immune system. But, one must take it in limited amount.
Q5) What is the price of old admiral brandy?
Ans) One bottle of 750 ml is available at 350 INR and 1000 ml is available at 590 INR.
Q6) Is old admiral brandy available online?
Ans) Yes, you can find this brandy online at various e-wine shops.
Q7) Why people drink old admiral brandy?
Ans) Drinking old admiral brandy shows your high standards because it is one of the top brandy in India.