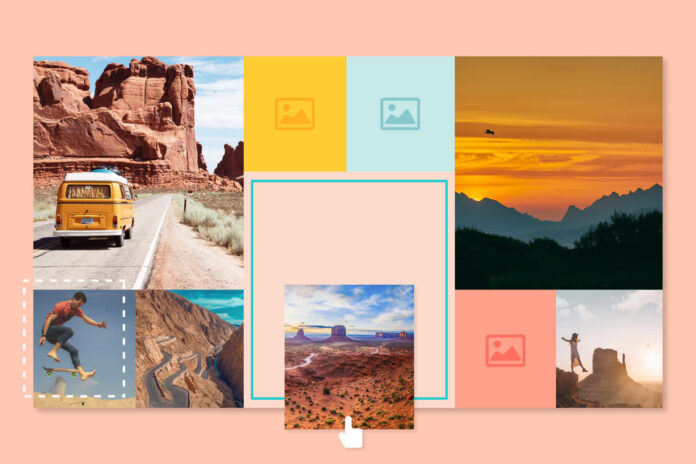 Many people consider collaging to be a simple procedure, and that's the reason why they do not pay heed to possess top-quality collage-making tools. But you must believe that collage making is an art where you need to use the right tools to gain perfection. With the right tools, your project can take on greater heights.
For the uninitiated, collage is a visually appealing and stylish way of showcasing designs and images. Of course, the collage makers have gained huge popularity in the market, and you will find a bunch of them available online, in either paid or free versions.
Tools to Create Attractive Video Collages
Looking for more details? Check out the information on 5 amazing online collage-making tools provided below and decide on the one that will work fine for you.
Movavi Video Editor Plus
Have dreams of making automatic video collages? Not a problem when you have Movavi Video Editor Plus to make your dream come true. This tool lets you create the most stunning video collage at just the press of a button.
The only thing you need to do is combine different media varieties to create an automatic video grid collage with rich media and music. The video editor does something more than simply helping users make the best of collages.
It allows users to edit video shots using professional tools. It also helps the users in working on HD video assignments with complete ease. The tool comes loaded with some of the most highly advanced editing attributes, such as slow-motion and chroma key, and even supports HD modes.
Read Also: How to Setup a Custom Domain on WordPress
It is an easy-to-learn video collage-making tool with a plethora of supporting literature and a simple layout. Going for Movavi Video Editor Plus will probably be a good deal for you as the tool offers good value.
Kapwing
There can be absolutely no doubt in the fact that Kapwing is one of the most useful online video editing tools available because it provides a wide assortment of video editing features. The video collage attribute of this tool allows users to combine photos, videos, and GIFs, making it the ideal choice for both beginners and professional content creators.
It is quite easy and convenient to use Kapwing for creating top-quality video collages. The only thing you need to do is upload the shots you are looking to combine and then adjust their positions on the screen.
Kapwing users also get the flexibility of enhancing the colors of different videos separately. They can also use options like Send Backward and Bring Forward and fine-tune the speed of playback of their videos in a collage.
Nevertheless, the free version of Kapwing comes with just one limitation: the video collages thus created will be watermarked. The pro version of the tool, however, does not have such limitations.
InVideo
Suppose there's one video collage maker that has worked wonders in helping users create the most stunning video collages, then it's undoubtedly InVideo. This is one online tool you can use for creating some of the most amazing video collages simply by combining varied videos.
The best thing about this tool is that it helps you create the most result-oriented video collages in just a few minutes. Users can use their very own video clips from the gallery of their device for making collages, or they can choose one from the tool's media stock library.
Over 1 million top-quality stock footage are available in the media library, making it very easy for users to create the best of video collages. So, it's time you get started right now!
The tool boasts 98% happy customers who have created more than 1200000 video collages to date. With the ready-to-use collage templates offered by this online collage maker, users can make some of the most incredible collages featuring effects and music.
Making video collages with the help of this video collage maker will give you the scope of lifting your brand presence on social media platforms. In the present era where smartphones are found in every pocket and handbag, being there on the internet is not an impossible endeavor.
So, it has become quite easy for businesses and brands to market their products and services to the target audience. With videos being one of the best ways of communicating with followers, brands can effectively use video collages to make their products and services even more eye-catching and exciting for the audiences.
If you would like to give your brand's social media engagement factor a real boost, then you must definitely start making video collages with the use of this tool.
Animoto
Animoto's huge collection of completely customizable templates enables users to create videos of all types and for varied purposes. The only thing you need to do is decide whether you want to make a video collage to launch your new product or you would like an explainer video collage for your real estate deal.
Once you have decided on the purpose of your video collage, you can upload materials based on creating your new video collage.
Photo Joiner
The super-intuitive user interface of this tool is what makes it truly amazing and useful. It offers an assortment of varied collage-making options helping users choose the one they are most interested in.
This is a classic collage-making tool with templates that will make the procedure easier. As is suggested by its name, this tool helps you join images either vertically or horizontally to create superb quality collages. Also, also select your photos and add them to different collage templates offered by this tool to create a single collage.
6. FlexClip
FlexClip is an online video editor that offers a video collage tool for free. Among the video collage tools, this one is remarkable for the number of effects and tools that allow you to customize your clips.
It has a large library of royal-free templates that can be customized to fit all your needs. You are allowed to make a quick collage on a ready template to make a birthday invitation or work on a complicated animated one to create a cherished memory from some valuable clips.
You can make numerous small changes after selecting a template for your ratio and filling it with images or clips. This tool allows you to resize the frames and borders. In addition, it is user-friendly and free, so even beginners will quickly figure out how to get the most out of the toolkit and the selection of effects and transitions.
Over To You
Combining several videos and images for making collages to attract target audiences will become an easy job for you only if you have the right video collage maker.
Hopefully, the ones detailed above will surely help you create collages that will surely impress colleagues, friends, and of course, viewers. Have your hands on them and see for yourself the difference you make to your business presence on different channels.