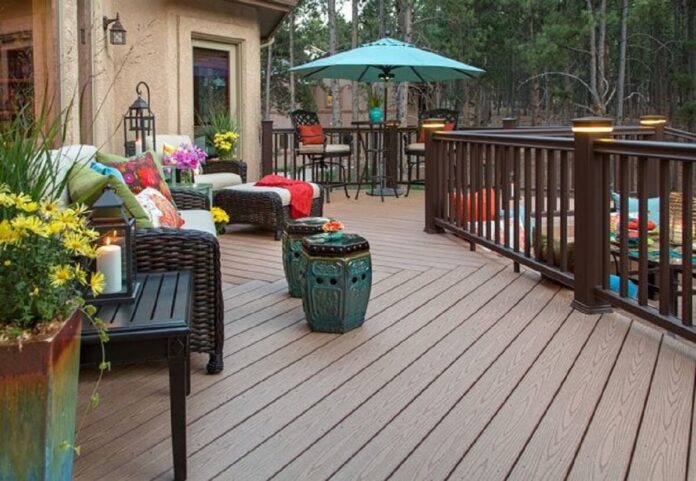 Choosing the perfect decking material is crucial for creating an outdoor space that reflects your style and stands the test of time. In this comprehensive guide, we will explore various decking materials, their unique attributes, and essential considerations, ensuring you can confidently choose the ideal fit for your preferences, budget, and lifestyle.
1. Natural Beauty and Durability: Hardwood Decking
Hardwood decking exudes natural beauty, warmth, and elegance. Common hardwood options like Ipe, Tigerwood, and Cumaru are renowned for their incredible durability, with some boasting a lifespan of over 50 years when properly maintained. The rich colors and distinctive grain patterns make hardwood decks a stunning addition to any home's exterior. However, keep in mind that hardwoods typically require more maintenance, including periodic sealing and staining, to protect them from the elements.
2. Low Maintenance and Longevity: Composite Decking
Composite decking has gained immense popularity due to its low-maintenance nature and impressive longevity. Crafted from a fusion of recycled wood fibers and plastic, composite decking showcases remarkable resistance against rot, warping, and splintering, making it the perfect choice for families in search of a low-maintenance outdoor space. With various color options available, composite decking mimics the look of natural wood without the need for staining or sealing. Although your deck builder may give you a higher upfront cost for it than wood, its long-term value and minimal upkeep costs make it a practical investment.
3. Environmentally Friendly and Sustainable: Bamboo Decking
For eco-conscious homeowners, bamboo decking presents an attractive option. Bamboo, a rapidly growing grass that can be harvested sustainably, stands as an eco-friendly choice, embodying a commitment to the environment. Bamboo decking is durable, naturally resistant to insects, and has a distinctive, contemporary appearance that complements modern architectural styles. However, ensure you choose a reputable supplier to guarantee the quality and proper treatment of the bamboo. If your deck builder has enough experience in the decking industry they should know the best supplier.
4. Timeless Elegance: Redwood and Cedar Decking
Redwood and cedar decking are prized for their natural beauty and classic appeal. These softwood options possess natural oils and tannins that make them naturally resistant to decay and insect infestations. The warm reddish-brown tones of redwood and the rich amber hues of cedar age gracefully, providing your deck with a timeless elegance that requires periodic maintenance to preserve its appearance and longevity.
5. Budget-Friendly and Versatile: Pressure-Treated Wood
Pressure-treated wood remains a popular choice for budget-conscious homeowners seeking a versatile decking material. Treated with chemical preservatives to resist decay and insects, pressure-treated wood offers a cost-effective option for creating a sturdy and functional deck. While it may require regular maintenance, such as staining and sealing, proper care ensures it withstands the elements for many years.
Conclusion
Selecting the perfect decking material for your home requires careful consideration of factors like budget, aesthetics, maintenance requirements, and environmental concerns. Whether you opt for the natural beauty of hardwood, the low-maintenance appeal of composite, the sustainability of bamboo, or the classic elegance of redwood and cedar, your deck will undoubtedly become an inviting outdoor space for relaxation and entertainment. Take the necessary time to carefully evaluate your requirements and preferences, enabling you to make a well-informed choice that promises enduring joy and contentment in the years to come. Happy decking!